Christmas Gifts For Dogs
It's almost that time of year already, Sleigh bells are faint in the distance but they are coming, and it is time we got our thinking caps on for some gifts. Now if you're anything like me, you are terrible at Christmas shopping. I just can't ever seem to get it all sorted early. No matter how much I try, I'm always running around like a headless chicken on Christmas Eve.
I'm sure you all either have some doggy-loving friends or a little pooch of your own that you'd love to give an extra special treat to this Holiday Season too. It's not always easy to shop for humans but the great thing about dogs is they never complain, although they do sometimes make a sulky face if they're not impressed with you attempt to wow them.
So let's avoid that this year and get them something they really love. Here are some good ideas for Christmas gifts for dogs.
What to look for?
When looking for dog gifts, there are a few main categories you can browse. They could be something useful to make the dog's and/or the owner's life easier. They could be nice unusual treats that would be special for this time of year. Some fun toys would always go down well on Christmas Day. Finally, you could get some cool accessories like a personalised dog collar or clothing item, if the owner likes to dress them up!
Let's start with the first option. Functional gifts for dogs.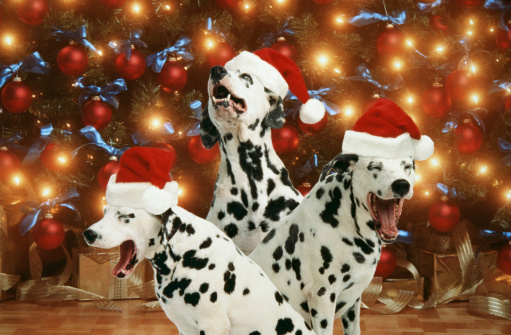 Make Their Lives Easier
The life of dog parent is often fraught with mishaps, sometimes hilarious but most of the time stressful and even messy! These gifts would help to make things run a little smoother for a dog in their daily life.
They would include:
A new bed – if it's something you've been meaning to get.
A dog travel box – if your friend likes to travel with their dog.
A new dog bowl – there is even one that never spills!
A dog walker service – if you or your friend are short on time for walkies!
A new strong dog lead or harness – if you have a particularly playful pup.
Treats
Every dog loves treats, but around Christmas time they will be watching you treat yourself and will surely be full of envy. You don't want your furry friend to be feeling left out, so treats are always a safe option around Christmas time. Be careful which ones you purchase though, some dog treats have some less than glamorous ingredients in them, such as dyes, preservatives and dextrose (sugar). Have a look at the ingredient list before you buy because some of them are like junk food for your dog and bad for their health.
It also depends on the type of dog and the treats that they like, there is always a small chance that they won't like the particular treats you buy for them. It's always better to stick with what you know, if you're buying for your own dog think about the ingredients in the one he like sand try to find similar ones like that. If it's for a friend's dog, you could maybe ask what kind of ones he likes or just go for some popular ones. Remember to check the ingredient list and the less ingredients in them the better!
Some good brands:
Alfie's & Molly's
Billy & Margot
Fish4Dogs
Alfie's Diner
Toys
When it comes to toys it can be a little more complex than treats. You don't want to get a sweet little teddy bear toy for a big burly German Shepherd who will tear through it by the time the kids have opened their second Christmas present.
Similarly, a big bone the length of your arm would not be suitable for a teeny little Shih Tzu with a bow in her hair and a mouth that you could barely fit a grape inside! So it's important to figure out which toy would get the best engagement for the longest time.
For larger dogs, strong rubber toys are normally the best route to take to ensure they survive long enough to keep the dog happy. Squeakers are always fun and puzzle toys that dispense treats or have goodies inside them can offer hours of entertainment for a dog and can then be re-filled by the owner, so they are always popular.
Small dogs enjoy squeakers too but any toy that may be large or more suitable for fetching can sometimes be a burden. Their tiny legs may have to work overtime to make it down the end of the garden and back with a big heavy toy weighing them down. Having said that, some of those little fellas would be able for it no problem! It is better to be safe than sorry. A teddy is always nice for bedtime cuddling too, and smaller dogs are less likely to destroy it instantly.
Some good brands:
Kong
Rosewood
Nerf for dogs
Personalised Pet Accessories
The final category of possible gift ideas would be some personalised doggy accessories. Something to make them stand out from the crowd in the dog park and make all the other pooches jealous!
These would be things like a cool doggy collar, which could be cute and sparkly for a little Lassie or brash and bold for a big Bruno! A personalized dog tag is also nice to add-on too. Stick their name on it to really make it personal, or even a catchy slogan to perfectly describe the dog and their antics!
A nice garment of clothing is also a good gift, especially if the dog is used to putting on some nice attire already. A Christmas jumper for dogs also may provide some novelty around the festive season but little use after a week or two as it could be too heavy for the dog or difficult to get on and off.
Precious Portraits and Pawtraits
A really nice personal gift would be a doggy portrait or 'pawtrait'. There are several artists doing such drawings now and they offer a very realistic and deeply personal keepsake for you to hang on your wall. Don't worry about having to make the dog sit for hours, you simply provide a photo or two of them and the artist can bring them to life on paper.
ScoobyBox
If you'd like to save yourself the stress of deciding and the trip to the shopping center, then you could always just sign up for ScoobyBox. You can get it for yourself or a friend and it comes with some really sweet items for a seriously happy festive dog.
Each box comes bursting with healthy organic treats, a combination of soft and strong toys, and some other cool accessories to make the day extra special. The surprise of the box is also a sight to behold and it will be like Santa Clause himself dropped this bonanza on your dog's lap. Dogs have been known to go wild when ScoobyBox arrives and it makes for some seriously funny viewing.
Everything is delivered to your door and your Christmas gifts for your dog is sorted with one simple click. If you're buying for your own dog you can get a regular ScoobyBox at www.ScoobyBox.com/signup. If it's for a friend and you want to really impress you can get the bumper Christmas box at www.ScoobyHub.com/store.
What are you waiting for? Solve a Christmas headache in three easy steps. Just tell us your dog size, where you are in the country and what's their name and it's on the way to you!
Get ScoobyBox here.
Comments
comments